The holiday shopping season is nearly upon us. It's that time of year when every article you read for the next few weeks will give you the same advice offered every year:
You. Need. To. Plan. Ahead.
But this year isn't like previous years.
This year we're facing challenges that most of us have never experienced before. Things are different—for retailers, for shoppers, for the world.
This article will help you understand the current state of retail and ecommerce, the challenges and opportunities you'll face as a result of COVID-19, and the tactics you need to start putting into motion now to not just win the few months that make up the upcoming holiday shopping season—but all of next year too.
The Impact of COVID on Consumers and Online Shopping Behavior 
You don't need me to tell you that Q4 is a hugely important time of year for any business that sells physical products to consumers. The holiday shopping season has, for some time, been a big opportunity for both brick and mortar and ecommerce retailers.
For many retailers, the last few months of the year can account for as much as 40% of annual sales.
In previous years, those sales have been coming increasingly from online shoppers. During the 2019 shopping season (November 1 – Christmas Eve) for example, ecommerce sales made up 14.6% of total retail and rose 18.8% from the 2018 period.
Unsurprisingly, experts forecasted that online shopping behavior and online sales would rise steadily again during the 2020 shopping season.
Then came COVID-19 and with it, an unsurprising but staggering increase in online shopping behavior.
According to retail figures shared by the Commerce Department, "during the height of the COVID-19 pandemic, consumers spent $200.72 billion online with U.S. retailers, up 44.4% from $138.96 billion for the same quarter the prior year."
Digital Commerce 360 commented on the data reported by the Commerce Department by adding, "Q2 2020 marked the highest year-over-year growth for any recorded second quarter and the second-highest rate of any quarter or year overall going back to when the agency first started breaking out ecommerce data in Q4 1999."
As we enter into the holiday shopping season, retailers can only expect consumer demand and online shopping orders to increase dramatically as the desire to venture out into brick and mortar stores remains low and the fear of worsening the spread of COVID-10 remains high.
For retailers, this means there will be more opportunities and more challenges this year than ever before.
The next few months will undoubtedly look different for retailers, but one thing will remain the same: you really only have one chance to get it right. Those who prepare will win, and those who don't will wish they had.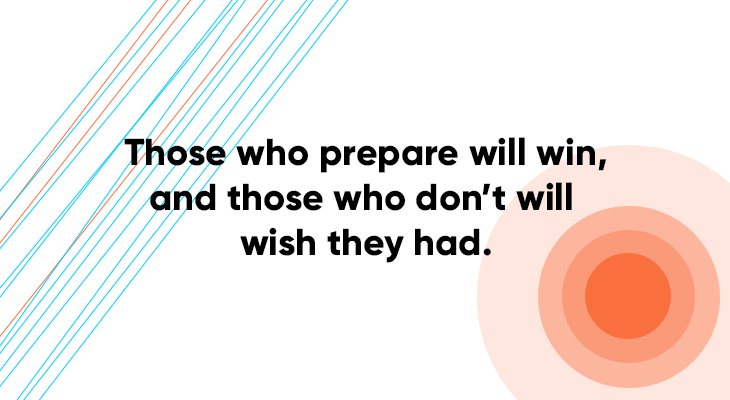 What The "Experts" Always Tell Retailers to Do to Prepare
It's not hard to do a Google search and find a slew of blogs all claiming to have the best content on how to help you prepare for Black Friday, Cyber Monday, and the Christmas shopping season.
The question you have to ask yourself is, how actionable is the content you're getting when you click on a search result and land on the page? Does it pass the smell test, or does it just look the part? In other words, is it written from a source you can trust? From a company or person that has real experience and data they can pull from when offering recommendations and providing actionable insights that can help shape your go-forward strategy?
If you look for those articles, you'll find that a lot of "experts" are all saying the same things:
They tell you to plan ahead, but they don't go deep enough on specific tactics that you should be moving forward with now.
They tell you to go big on your Black Friday deals, promotions, and discounts, but they don't talk at all about the dangers of over-discounting and what happens when you form the wrong purchasing behavior habits with your consumers.
They make you believe you should put all your eggs into the Black Friday/Cyber Monday basket instead of helping you understand the value of creating a bigger window of time before and after those days to influence buyer demand and interest.
They persuade you to spend everything you have acquiring customers, even if it means you come out at a loss on the other side of the season.
They convince you to focus solely on driving revenue, instead of helping you understand the importance and value of growing while maintaining profitability.
My goal with this article is to help you approach this year's holiday shopping season differently because it is different.
I want to help you prepare for the next few months, but I also want to provide you with ideas, tactics, and recommendations that I know will work more than just one or two days out of the year, because that's what you need in order to build a profitable, sustainable online retail business.
What Most Retailers Get Wrong Every Year
Before we get into the challenges and opportunities that COVID-19 is creating for retailers this year, I want to talk first about something I think a lot of retailers struggle with during the holiday shopping season.
It all comes down to the difference between focusing on revenue vs focusing on profitability.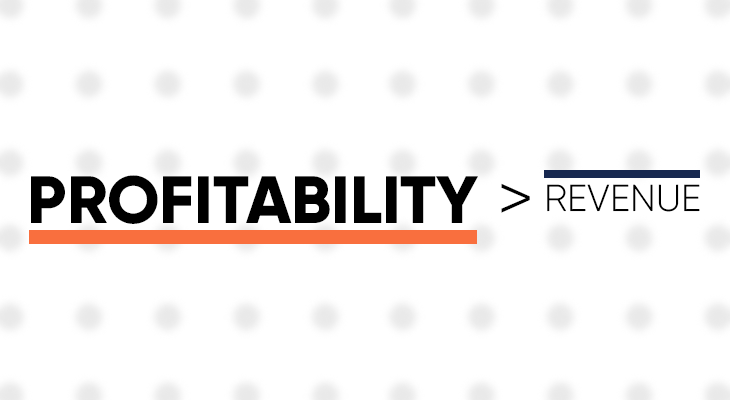 It's tempting to focus on doing whatever you can to drive top-line revenue during Q4. After all, consumers spend more money during Q4 than any other time of the year. In fact, according to WordStream, the average consumer spends a little over $1,200 on holiday gifts per year. That number doubles for consumers or households with incomes north of $100K.
There is a lot of money up for grabs during this time of year, plain and simple.
For retailers, it's a big opportunity to move a lot of inventory and make a lot of money. The desire to show big numbers for Q4 leads many retailers to invest in tactics and strategies that focus on revenue but ignore profitability.
Here are some strategies that might allow you to maximize revenue and make a lot of money from a top line perspective, but don't allow you to effectively manage profitability.
Aggressive Discounting
Everyone will try to tell you that you need to launch aggressive discounts on Black Friday and Cyber Monday, and it's true—you should. Competition for dollars during this time of year is fierce and you have to do everything you can to cut through the noise and connect with shoppers…but you shouldn't do so at the cost of profitability.
Some people will tell you that you should use discounts and deals to acquire customers even if it's at a loss because if you can get them in now, you can nurture them again and again throughout the following year.
The problem with this strategy is that you're not just losing out on money, you're also creating bad habits and bad expectations with your buyers.
A study from Playbook Media found that across ecommerce clients, customers acquired during Black Friday were 70% less likely to purchase at full price within the next 12 months as compared to customers who first purchased at full price.
Discounts help drive urgency and action yes, but they also can influence long-term shopping behavior in negative ways. Research shows that 64% of online consumers wait to buy things until they go on sale.
Although you might be able to use discounts in ways that allow you to capitalize on a small moment in time, you could be actually hurting your ability to grow and maintain profitability in the long run by convincing shoppers that they shouldn't buy from you again until the next discount becomes available.
So how can you offer discounts in a way that allows you to grow while maintaining profitability? I'll share some actionable ideas later on in the article.
Aggressive Ad Spending
Another mistake retailers make is they spend enormous amounts of money on ad costs by relying on channels that use auction dynamics, like Facebook and Google.
Relying on auction dynamics can get really expensive, especially when you're not very familiar with how to manage ad spend on these channels.
On Facebook, for example, you can choose to run ads with automatic bidding or cost cap bidding.
With automatic bidding, also known as lowest cost bidding, Facebook tries to get you the lowest possible cost per optimization event while also spending your entire budget by the end of the day.  This is a poor way of maintaining profitability especially in high demand time periods like Black Friday. If for example you need to maintain a maximum CAC of $20 to hit profitability targets and set a budget of $25K for Black Friday, Lowest Cost Bidding will guarantee that you spend the entire $25K, but may go well over your upper end CAC threshold of $20. As you can see this is a huge risk for profitability.
A better option is cost cap bidding. With cost cap bidding, Facebook works to deliver the maximum number of conversions as they can within the CAC limit that you have set. This will allow your campaign to spend up to your $25K budget while maximizing the number of profitable conversions possible within that budget.
Without a clear understanding of how these channels work and what your goals are, it's difficult to acquire customers and drive sales while keeping things profitable.
Click this link to learn more about how Playbook Media helps businesses efficiently grow through expert media buying strategies.
Total Depletion of Inventory
Some retailers are tempted to drive up revenue by getting rid of their entire inventory during the Q4 shopping season. This strategy is primarily utilized by seasonal companies and it's something we advise against doing at Playbook Media.
If you are a seasonal ecommerce brand, you're better off selling as much as you can while maintaining profitability targets and planning for higher margin sales at much lower volume until you restock with Spring styles. The key is to avoid having 2-3 months of low or no inventory.
Inventory management is an important element to get right as a business. If you need help building your strategy, dig into this helpful resource from Shopify. It covers a multitude of techniques that you can use to ensure you're managing inventory and profitability effectively.
Download a Free Sales Calculator Tool To Understand If your Promotion Strategy Will Be Profitable
The Challenges Retailers Are Facing as a Result of COVID
As if the standard challenges mentioned in the previous section weren't enough to deal with this year, we also have an entirely different beast to fight: COVID-19.
COVID-19 has changed the ecommerce game forever. In fact, many experts say that it has pushed the industry forward as much as 4-6 years.
This unfamiliar territory is creating new challenges for retailers that will impact how you operate and prepare for the 2020 Q4 shopping season.
Here are the biggest known challenges you need to plan for and overcome:
Competition Will be Fiercer Than Ever – Competition for online shoppers is always intense during Black Friday and Cyber Monday, but it will be especially aggressive this year as more traditional brick and mortar stores turn to ecommerce in order to continue moving product.
Advertising Will Get Expensive – If you're new to ecommerce this year, you almost certainly need to invest in advertising to reach new and existing customers. The challenge is, it can get really expensive really quickly unless you know what you're doing.
Shipping Will be a Nightmare – We've already seen and experienced shipping delays and challenges as a result of more online shopping and product demand during Q2 and Q3 this year. It's safe to say that Q4 will not only be no different, it will likely be much worse for retailers and consumers alike.
You'll See More First-Time Online Shoppers – According to a survey by Statista, 9% of consumers in the U.S. have purchased a product online for the first time due to physical distancing and self-quarantining practices. Another survey by ClearSale reported that in 5 major countries experiencing lockdowns, "the average number of brand-new online shoppers rose by 12% between March and April." These numbers will without a doubt increase as we continue to approach the holiday shopping season.
You'll Experience More Website Traffic – Assuming you're running more ads or not allowing people to purchase from your brick and mortar store in-person, traffic to your website will be higher in Q4 than in previous years. It's important that you take the necessary steps to ensure that your website can handle the load and that your customers have the best possible buying experience possible when shopping with you online.
There is No In-Person Shopping Experience – Your customers may be accustomed to visiting your store and evaluating your products in-person before they make a purchasing decision. If you're moving most of your operation online, you'll need to develop new strategies that help your customers decide whether or not to buy your products even if they aren't able to visit your store or talk to you face-to-face.
There Will be a Bigger Need for Amazing Customer Service – Your customers will have more questions this year than in previous years. Problems will arise that you need to be ready to quickly address and solve. A proactive customer service strategy and a dedicated, prepared team will be crucial to your success.
There Will be Higher Expectations for Transparency – You may experience shipping challenges. You may experience more returns from customers than in previous years. You may have more questions from interested buyers about your products, your fulfillment process, and your company. Upfront transparency that addresses all of these areas will become more important than ever.
Your ability to understand and plan for these challenges and others ahead of time will make it much easier for you to keep customer happiness, brand reputation, and profitability intact throughout the rest of the year.
The Opportunities Retailers Have Due to the State of the World
COVID-19 has been devastating for people and businesses everywhere. There's no doubt about it. It has, however, also created some new opportunities for retailers going into the holiday shopping season.
Here are some of the biggest opportunities retailers have this year:
The Ability to Test New Ideas – Consumers are going to be more forgiving than ever this year, so it's a great time to test new, out-of-the-box ideas and channels that could help you sell more products and grow your business. It's also necessary to test new ideas given the amount of new competition your business will face this year. If you're doing the bare minimum or implementing the same strategy as everyone else, you're not going to win.
The Benefit of Not Being Able to Offer Shipping Guarantees – Because shipping is going to be such a nightmare this year, it's probably not a good idea to offer the same shipping guarantees you've offered in previous years. This might seem like a negative to some, but I actually see it as a benefit. If you can't guarantee that orders placed on Black Friday or Cyber Monday will make it to your customers by Christmas, all the more reason to design campaigns that encourage people to place orders sooner than they normally would. This goes back to the value of creating a bigger window around the two big shopping days in Q4.
The Chance to Interact with Customers in New Ways – Lack of face-to-face interactions with customers will force you to connect and engage with your customers using digital channels like email, social, text, and live chat.
The Lack of Pressure Around In-Store Shopping – Reduced in-store traffic will allow you to focus more on delivering better online shopping experiences for your customers. You won't be juggling online and offline sales in the same ways that you might have been in previous years.
More Time to Prepare for the Season – Reduced in-store traffic will also give you more time to plan, build strategies, and invest in new channels that you otherwise might not have had time for.
The opportunity to grow and grow profitably this year is clearly big—it all comes down to your ability to plan and execute.
How to Build and Implement a Winning Strategy for Q4 & Beyond
You know the challenges and opportunities. Now the question is, how do you build a strategy that helps you capitalize on Q4 and build a stronger online business next year?
Here are nine actionable tips and strategies that can help you shape the right strategy for your business: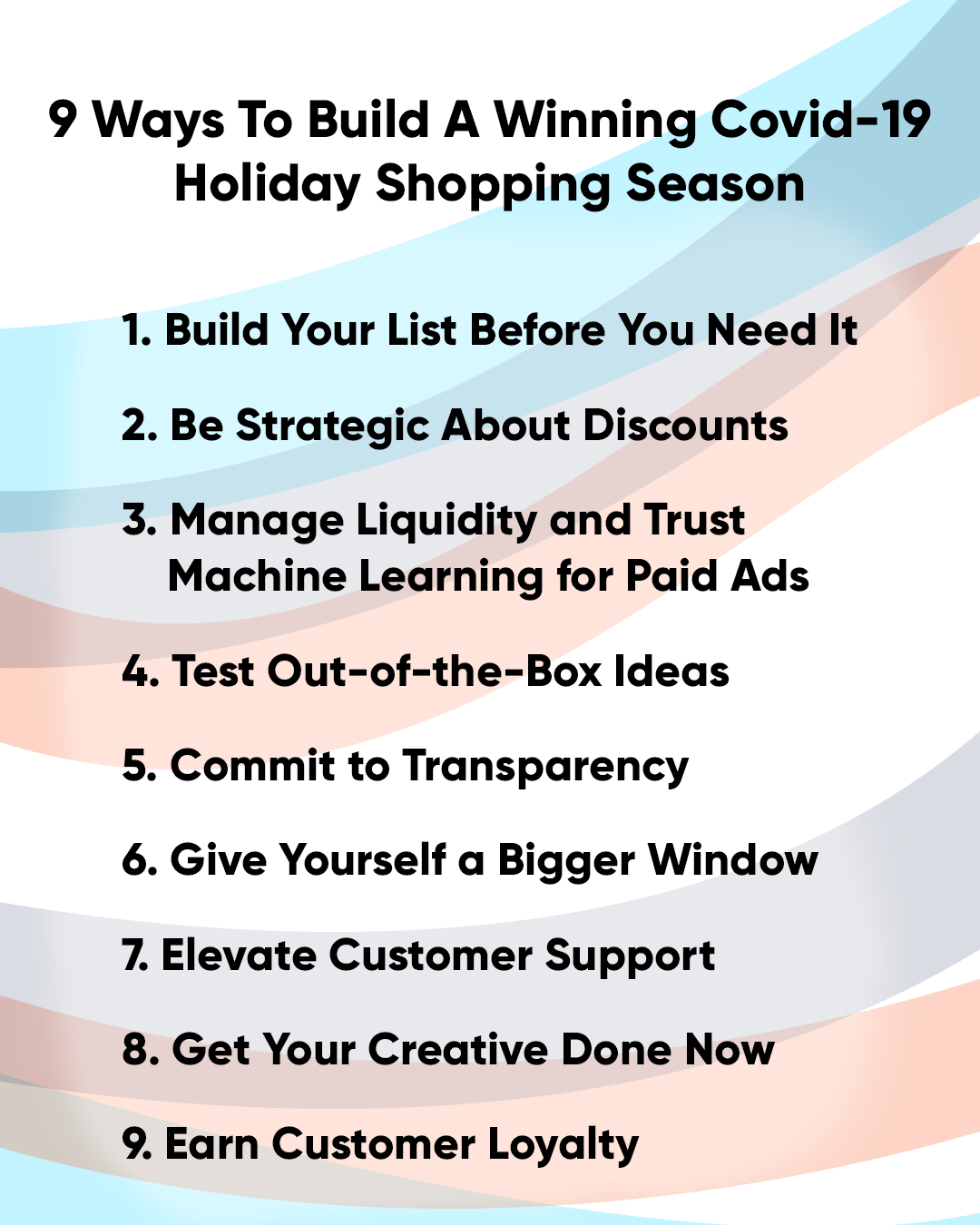 1. Build Your List Before You Need It
One of the best ways to reduce your costs to acquire customers during Q4 is to build and nurture your email list before you need it. Online shoppers are going to be inundated with email campaigns and paid ads on Black Friday and Cyber Monday. You can cut through the noise by capturing customer emails now and engaging with them regularly leading up to the busiest part of the holiday shopping season.
Here are some creative ways to start growing your email list:
Offer Pre-Black Friday Deals to Subscribers: Instead of waiting until Black Friday to launch your deal, create an exclusive, limited-time-only discount that customers can get access to now in exchange for opting into your email list.
Create a Product or Company Education Email Series: Create a series of emails that help educate people about your brand and mission, your team, how your products are made, and who your customers are.
Create a VIP Exclusive Product: Offer one of your products exclusively to email subscribers and only during the next few months. Drive urgency by only producing a limited quantity of inventory.
Create Compelling Email-Only Content: Interview influencers in your industry and only publish the content in emails to your subscribers.
Launch a Milestone-Rewards Program: Create an attractive members-only program that rewards customers for hitting different milestones when they purchase your products.
Create a Seasonal Giveaway or Contest: Drive urgency by designing a campaign that offers customers the chance to win a free product or bundle of products in exchange for opting into your email list.
For more tips and ideas on how to build and grow your email list from scratch, take a look at this helpful resource from Omnisend.
2. Be Strategic About Discounts
It's important that you remain conscious about how you're discounting during Q4. A lot of people will tell you that it's OK to acquire customers at a loss during this time of year because it means you can nurture them again and again over the next 12 months, but as I mentioned earlier, I don't agree with this strategy.
Over-discounting can be expensive and it can also create the wrong expectations with your customers over time. Consumers who buy on steep discounts are trained to only buy when there are steep discounts. They aren't brand loyal.
Here's how to build a discounting strategy that actually helps you:
Give the Best Discounts to Your Most Loyal Customers: Don't reward people who have never purchased from you before. Reward the people who return to your store regularly to buy your products. Customers who buy from you on Black Friday or Cyber Monday are looking specifically for the deal, they aren't loyal to your brand. Give your most attractive discounts to your most brand and product loyal customers.
Offer Rewards For Different Purchasing Milestones: Design discounts that customers can unlock when they hit different purchasing milestones, such as spending $100 to get a $20 off discount, or purchasing 3 products to get 10% off on shipping.
Use Discounts on Slow Moving Inventory: Attach product-specific offers to items that you know you want to get rid of, or items that you know don't sell very quickly.
Create Timely Pre-Sale Campaigns: Create an attractive pre-sale campaign that offers a big reward to anyone who signs up for your email list before October 1st.
Maintain Profitability: Don't over-discount for the sake of more revenue. Evaluate every discount you want to send to your customers and ask yourself: is this helping me grow while allowing me to maintain profitability? If the answer is no, it's probably not worth it in the long run.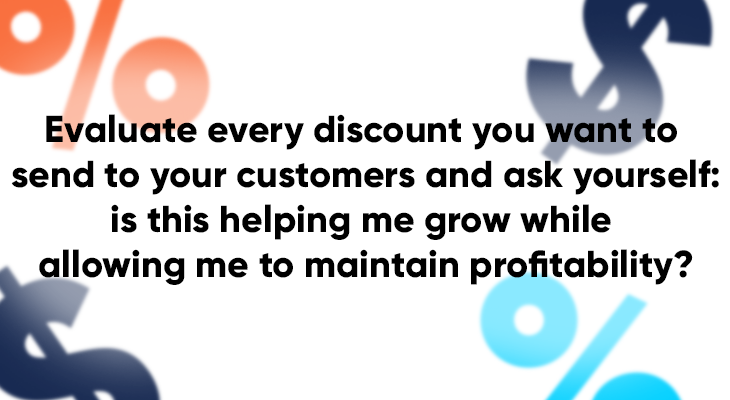 For more help building out an effective discounting strategy for Q4 and beyond, read through this guide from BigCommerce.
3. Manage Liquidity and Trust Machine Learning for Paid Ads
You will be tempted to want to manually pull levers to improve the ads you launch on Black Friday and Cyber Monday, but that's a mistake.
The temptation to do so is particularly high when:
Your CPA looks too high while things are still in the learning phase
Spend is too high early in the day
One campaign is getting more budget than the other even though it appears to have worse performance
You really want to prove your worth and technical chops to your boss
Don't try to make the decisions manually. It might look like the system is not making the right decision, but it is. Trust the machine learning. Don't try to manage your ads on a day-to-day basis. Set up the constraints you want to have ahead of time. Be absolutely clear that everything in your ads is correct and working before you launch them. You will lose efficiency as soon as you make changes because your ads will go back into the learning phase.
Lean into machine learning and the optimizations of the systems created by Facebook and Google to put your ads into the right places for the right people at the right time. It will work.
For more help creating the right ad strategy on Facebook this year, explore their 2020 Holiday guide.
4. Test Out-of-the-Box Ideas
This is the year to test out-of-the-box ideas. You have more time and your customers are more open to engaging with you in new and different ways.
Here are some ideas worth considering:
Launch a Try Before You Buy Option: Most of your customers will probably not be interacting with you or visiting your store in-person during Q4, so take a page out of the Warby Parker book and give your customers the option of trying your products before they buy. To decide if this is the right idea for your business, look through this helpful guide from ShipStation on the topic.
Test a New Channel Like OOH or Direct Mail: Because online advertising and email marketing will be so competitive this year, it might be worth trying to reach your customers or prospective customers in new ways. Two channels you could look into more are OOH advertising (static or dynamic billboards) or direct mail. To learn more about why ecommerce brands are using billboards to reach customers this summer, read this article from The Perfect Media.
Invest in a New Form of Content Creation: If you have more time on your hands than you usually do around this time of year, consider creating a new form of content for your audience to digest. Produce branded content. Record a podcast. Film a video series. Design a magazine. Don't be afraid to try something new to reach and build trust with your audience.
Launch a New Partnership: Find a company you admire and figure out how to design a partnership with them that helps both of your companies. It could be a product collaboration, a content collaboration, or just cross-promotion of your brands and products.
Tell Your Brand Story: Help people understand why your brand exists, what you're trying to solve, why you feel like it matters, and how they fit into the story. Connect with people on a human level and help them believe that they need to support your business this year.

5. Commit to Transparency
Expect that there are going to be more challenges this year given the current state of the world. Work proactively to address and solve these problems by being more transparent. Here are some ways you can build trust and confidence with people:
Make Sure Your Shipping & Return Policies Easy to Find: Share your policies prominently on your homepage and in transactional emails.
Educate Customers on Your Approach This Year: Record a video or create an entire section on your website that helps customers understand how you are approaching and solving challenges related to COVID-19 this year. Be open about the fact that things might not be perfect. Upfront honesty will go a long way with shoppers.
Help People Understand How to Reach You: Make it easy for customers to reach you via email, chat, phone, or social media when they need to ask you a question about your products or an order they placed.
Respond Quickly to Customers: Make it a priority to respond as fast as possible to any inquiries that come through to your customer support team.
6. Give Yourself a Bigger Window
Don't put all your eggs in the Black Friday basket. Don't focus on one day alone. Make your window bigger. Black Friday is only important because retailers and the media say it is. You should be nurturing customers and investing in ways to drive growth profitably throughout the year to maximize value.
Think about it this way: you could drive $500K in incremental sales during Black Friday week at a 15% margin, or you could drive $300K in incremental sales over a 4 week period at a 30% margin. Which would you prefer? The latter is much more valuable for your business.
It's tempting to want to get lost in the hype of one or two days out of the year, but don't let all the buzz fool you—build a bigger window for yourself and invest in strategies you can repurpose throughout the year.
7. Elevate Customer Support
Your ability to respond quickly and effectively to inquiries from customers is going to be crucial this year. Make sure you are prepared for an increase in activity by taking the following steps: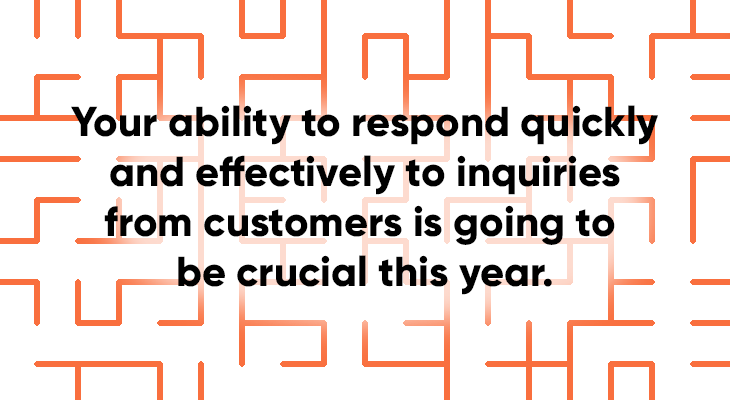 Hire More Customer Support Agents for Q4: Hire and train more people to help your existing team manage the uptick of requests and questions that will come in from customers over the next few months.
Consider Outsourcing to a Call Center: Consider working with a call center partner to offer a phone number that customers can call to get immediate help with orders.
Make Sure Your Social Media Team is Prepared: Give your social media team the tools and training they need to handle public messages and requests from customers across all the social media sites your brand is active on.
8. Get Your Creative Done Now
A big part of whether or not your marketing and advertising campaigns hit the mark with your target audience comes down to the creative you develop and use. If you don't have solid creative prepared for the holiday shopping season, you need to start now. That might mean creating new messaging for your products, taking new photography, and coming up with new, creative concepts that will cut through the clutter and persuade your prospective customer to act.
If that sounds like a lot to do and figure out, let our team do the heavy lifting for you. We're seasoned professionals who can help you quickly develop and design the right creative strategy and components for your holiday shopping campaigns.
9. Earn Customer Loyalty
Don't go into Q4 with the goal of driving more one-time purchases. Go in with the goal of creating loyal customers who will purchase products from you again and again throughout the year.
Here are some actionable ideas that can help you build loyalty with your customers:
Create a Memorable Unboxing Experience: Because you don't have the same opportunity to create the same buying experience as you would if you were interacting with a customer face-to-face, you need to work extra hard to create that experience with your products. One of the best ways to do it is by creating an intentional unboxing experience for your customers to encounter when your products arrive on their doorstep. Every piece of the packaging you use when packing and shipping your products to customers should be meaningful. That might mean using branded boxes, wrapping products in branded tissue paper and stickers, or including a handwritten note inside the box. For more ideas on how to design a winning unboxing experience for your products, check out this guide with examples from BigCommerce.
Follow Up With a Thank You: Send a follow-up email or handwritten postcard to every person who buys a product from you for the very first time.
Promote Your VIP Program: If you have a membership or VIP program, make sure new customers know about it! Promote it on social media, in marketing and transactional emails, and in printed material you send with your products.
Tell More Stories About Your People: Connect to your customers on an emotional level. Introduce them to the people and stories behind your business and products. Make them feel like they are part of your community.
Take Every Opportunity to Delight: Go the extra mile whenever you have the opportunity to interact with customers. Infuse personalization into messaging. Let your brand voice shine. Make it easy for people to know why they want to buy from you again.
Get Help From the Experts
Contact Playbook Media to discuss your 2020 Holiday Marketing Plans.